Value Framework Assessment
The Designated Observable (DO) study will identify architectures to support most important and very important science objectives.  A Value Framework will assess architecture solutions to most and very important science objectives (performance), risk, cost, schedule.   This will serve as the basis for recommended candidate architectures to NASA HQ at the end of Phase 2.
Assessment Process
Once a set of system architectures has been identified, a Value Framework will be established. A set of measures of effectiveness (MOEs) will be defined based on the ESAS 2017 DS. Measures of Effectiveness will be developed to assess the key features relevant to decision criteria while providing the ability to discriminate between alternatives.  The alternatives will then be evaluated through a set of analyses covering such assessment areas as capability, cost, schedule, risk, and affordability as seen in the graphic below.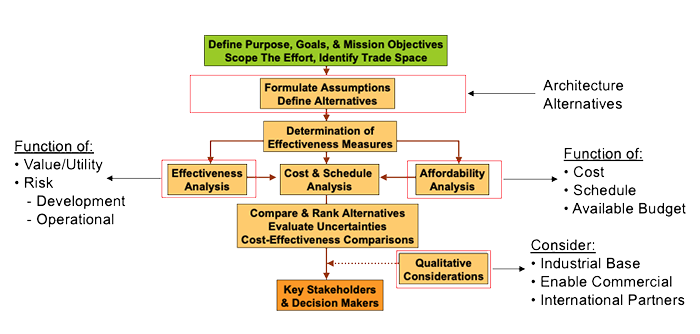 Value Framework Assessment
A notional graphic shown below charts Science Value versus Science Cost.   A gray diagonal line depicts a conventional cost performance profile and blue dots depict individual architectures.  Reduced cost to NASA may be enabled through strategic partnerships and/or innovative opportunities and enhanced science return may be enabled through new technologies and/or innovation.   Architectures below the Threshold mission or above the cost target will not be considered.